Human resources solutions for today's workplace.
Interested in the latest?
Join our email list for news on ADA accommodations, health conditions in the workplace, and other HR happenings.
Making It Work: Managing Your Health Condition Through ADA Workplace Accommodations
A Guide for Employees and Referenced by Employers
Making It Work, by Sheryl Ellis, leads you step by step through the process of requesting an ADA accommodation at work. You will understand how the ADA applies to you, an employee with a health condition, and how to effectively research, prepare, and negotiate reasonable accommodations that will enable you to be successful at work.
An Interactive Process Flowchart for Employers
As a speaker for The Great Lakes ADA Center, ADAOnline2020 webinars, Sheryl Ellis presented The ADA Interactive Process: The Key To Compliance describing the steps involved in the interactive process under Title 1 of the ADA and how to create and perform these steps.
Reviewers have praised Making It Work for taking the complex topic of ADA accommodations and making it understandable and actionable for the average employee. Gail Himes, City of Tacoma ADA Coordinator, said,
"… the highest compliment I can give is to say, 'This book makes the process simple.'"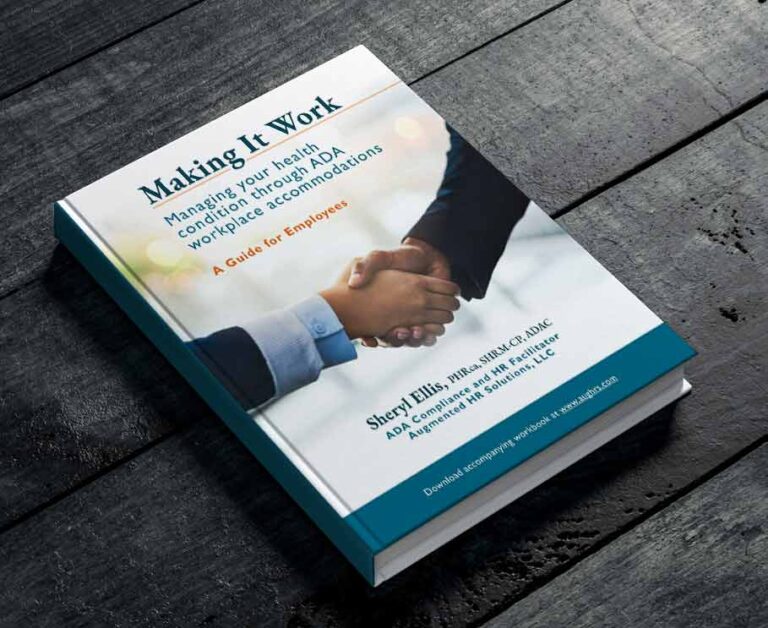 Our team at Augmented HR Solutions provides answers for all areas of human resources, working with small to medium size companies in all industries. We have special expertise in helping organizations understand and navigate complex issues related to disabilities in the workplace under Title I of ADA.
Speaking and Training on the ADA
Does your company need training or consulting on ADA-related topics related to Title I of the ADA such as compliance, the interactive process, or reasonable accommodations in the workplace? Author, trainer, and ADAC-certified consultant Sheryl Ellis presents on ADA topics to organizations, human resources professionals, employees, applicants, and specialists in the field of Title I of the ADA and the workplace
Does your business need ADA or human resources solutions? Let's get in touch!