Download Your Interactive Process Flowchart
We hope you find it helpful as you learn more about the ADA and workplace accommodations.
To access your free copy of Making It Work: Interactive Process Flowchart, sign up below.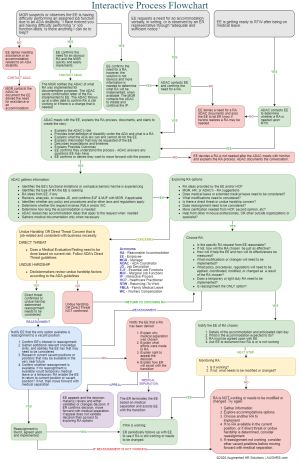 Print the Interactive Process Flowchart Yourself
The flowchart is designed on an 11″x17″ page. You can print it full size, or print reduced to fit on regular-sized paper, from your home printer or at a local office shop.
Interactive Process Flowchart

Accessibility
Making It Work: Interactive Process Flowchart has been created and verified as an accessible PDF, ready to be used with a screenreader, keyboard-only navigation, or other accessibility tools that you use regularly. Like our other materials, it meets WCAG 2.1 standards for accessibility of online information.
See our Accessibility Statement for more information. If you encounter issues with flowchart accessibility or have suggestions for how to improve it, please contact us and let us know.
To view, print, and fill out this file, you must use Adobe Acrobat Reader, a free software program for reading PDF files. If you do not already have Adobe Acrobat Reader installed on your system, you can download it here:
https://get.adobe.com/reader/